Genoa Gators
The Genoa Gators is for children 7-18 who love to have fun and want to improve the swimming skills in a fun, supportive and laid back atmosphere. We STRONGLY encourage swim lesson experience prior to joining the team. Regular swim meets will be held against surrounding communities traditionally on Thursday evenings. Parent volunteers will be required at each practice and swim meet. Prior to the season, we will hold evaluations for new swimmers only. (Time and date TBD) A parent information meeting and swim suit try on will be held on TBA at 6:30 pm.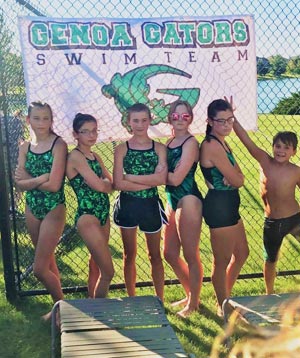 Please plan on attending meeting.
Practices will begin TBA starting at 8:45 am.
LAST day of registration and swim suit try on will be May 25.  We will not accept any registrations or suit orders after May 31.
Please text 81010 with message @gstgator for reminders, cancellations and communication from the coaches.
Practices:
All ages:  Monday – Thursday 8:45-10:00 am
Fees: $130.00 Resident/$145.00 Non-Resident
Additional family Members…$50.00 Resident/ $70.00 Non-Resident
Swim Team Meets:
June 18th
Foxmill
at
Windings
Barrington & South Barrington
at
Thornwood Thunder
Highland Woods
at
Genoa
Bye: St. Charles
June 25th
Windings
at
St. Charles Potawatomi
Highland Woods
at
Thornwood Thunder
Barrington
at
Foxmill
Genoa
at
South Barrington
July 2
Genoa & Windings
at
Thornwood Thunder
St. Charles & Highland Woods
at
Foxmill
Barrington all city meet
July 9th
Thornwood Thunder
at
Highland Woods
St. Charles
at
Genoa
Barrington
at
Windings
South Barrington
at
Foxmill
July 16th
South Barrington
at
Foxmill
at
Thornwood Thunder
Highland Woods
at
Barrington
Genoa
at
Windings
July 23rd
Foxmill
at
South Barrington
Windings
at
Highland Woods
St. Charles
at
Thornwood Thunder
Genoa
at
Barrington
July 30th
All Teams Relay
Location: St. Charles Potawatomi