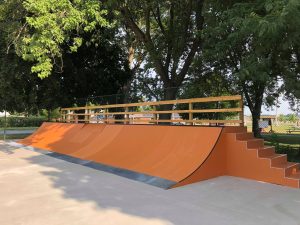 Skateboarding
Fargo Skateboarding is everything skateboarding: a skate shop run by skateboard enthusiasts, and a nearly 10,000 square ft. heated indoor skatepark. Originally opened in 2007 as Smalltown Skate Shop by NIU graduate Ariel Ries, the company recognized a need for a year-round community space that would be a training facility for skateboarders.
In 2015 Smalltown moved 4 blocks east, changed it's name to pay homage to it's new location in the recently restored Fargo Theatre that was built in 1929. Expanding from being strictly retail, Fargo Skateboarding now offers skateboard lessons, classes, and skate session times, along with special events including contests, live music, clinics, and art shows. Fargo Skateboarding welcomes and encourages people from all abilities and ages to progress their skateboarding skills in a safe, fun environment.
Take a Test Ride
Beginner Skateboarding Clinic:

Sunday, May 5th, 12:00pm-2:00pm, $10 (Rain date Sunday, May 12th) (maximum number of students: 20)

Skateboarding is fun!  This one day clinic is designed to introduce skateboarding to anyone who wants to give it a try. Instructors from Fargo Skateboarding will be teaching the first steps to safely getting on a board.  We recommend coming to the clinic if your son or daughter are interested in enrolling into the Skateboarding Class, and anyone who signs up for the clinic will be given a $10 credit towards the class.  Fargo will provide skateboards and safety equipment for those who do not have their own.
Pre-registration is required.
When:  June 2 12:00 pm – 2:00 pm
Fee:  $10.00
Beginner
Build on the basics and learn the foundations of park and street skating.  Work on ollies, dropping in, and pumping.  Understand park etiquette and how to comfortably flow through the skate park with an emphasis on safety. This class can be taken several times.
Ages 6+ Fargo Skateboarding Staff This class is meant to help students learn the basics of skating and essentially just learn how to ride.
Fridays, May 10th-31st, 4:00-5:00pm (rain makeup date: Sunday, June 2nd 10:00am) $70

Fridays, June 7th-28th 4:00-5:00pm (rain makeup date: Sunday, June 30th 10:00am) $70

Fridays, July 12th-August 2nd 4:00-5:00pm (rain makeup date: Sunday, August 4th 10:00am) $70
Fee: RES $70
(minimum # of students 4, maximum 20)(ages 6+) 
Intermediate Skateboarding
Ages 6+ Fargo Skateboarding Staff These classes will get more technical than the beginner classes. Dropping in and other sorts of fli tricks will be taught at this level. Those who already have a fairly good grasp on skateboarding would want to start here.  *Must pass beginners skateboarding or be evaluated by instructors to attend*
Work on the more technical skate tricks including flip tricks, various grinds, and putting lines together and flowing through the park. This class can be taken several times.
Fridays, May 10th-31st, 5:00-6:00pm (rain makeup date: Sunday, June 2nd 11:00am) $70

Fridays, June 7th-28th 5:00-6:00pm (rain makeup date: Sunday, June 30th 11:00am) $70

Fridays, July 12th-August 2nd 5:00-6:00pm (rain makeup date: Sunday, August 4th 11:00am) $70

Fee: RES $70 Fargo Skateboarding
(minimum # of students 4, maximum 20) (ages 6+