Lil' Titans
A fun filled 45min class with Obstacles, Leaping and Balancing!! One of our goals at the Fitness center is to help our children stay fit and
Healthy while having fun so our next generation doesn't have the same struggles we are over coming now. Call for more information.
Ages: 5 - 12 years
No sitting around with this crowd!
For Every Skill level
Don't miss out on all the fun!!
Free Transportation available from GK schools to All Classes!
We don't want adult schedules or a lack of transportation to keep them from participating!!!
Childcare at the GFC Kidz Zone Playland is available. Call for details.
First Trial Class Free! Call the GFC @ (815) 784 – F I T (3488) to reserve your spot. *For new participants only
Days/Times:
TBD
---
Lil' Tykes
Fun filled exercise!  Join us for tumbling, obstacles and team games.  Build friendships, social skills and confidence
Day/Times:
TBA
Ages: 3-6yrs
---
Titan Elite Bootcamp
Get your Lil Titan fit!  Build their fundamentals, coordination, strength and muscles.
Days/Times:
TBA
Ages: 6 & up
---
S.S.A. Speed, Strength and Agility
Improve speed, endurance and agility as well as increase strength and flexibility.  Take your performance to the next level and gain a competitive edge.
Days/Times:
TBA
Fun Fit Kidz
Fitness Formula: BEG/INT/ADV Level
Cardio Focus / Max Caloric Burn / Strengthening / Sculpting / Core & ABS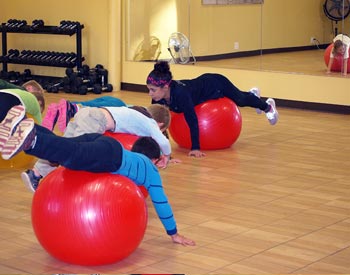 ---