Getaways
Parent's Getaway
Do you need time after a long weekend, kids are out of school, need to attend a parent/teacher conference or you just need ME time. We will supervise your kids in the safety of The Genoa Fitness Center Kids Zone while playing with friends, playing on our double decker play unit, or playing with the multitude of games and toys in Kidz Zone. Kidz Zone follows a weekly theme to help entertain and teach the kids about movement, fitness, teamwork and socialization. (Don't forget, we are open when the schools close due to bad weather, when the schools have early release every Wednesday, and most holidays.) Please call for details! Limited Spaces – Call Early!
Special Dates to remember are: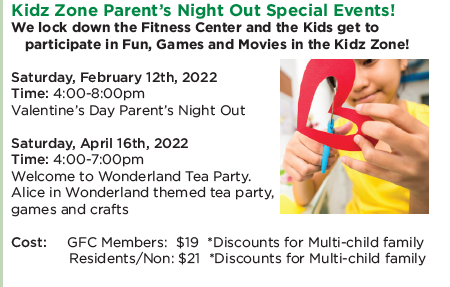 Christmas Break
When it's cold outside and there is no school, your kids can spend spring break with The Genoa Fitness Center Kidz Zone playing with friends, doing crafts, playing games and much more. We will have daily themes that will keep your kids entertained and wanting to come back for more.