Kreative Kids Preschool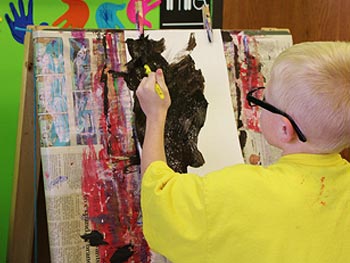 Your child will be excited to find out what is in store for them each day…Teachers assist in nurturing your child's social, emotional, physical and intellectual growth through play and a variety of learning opportunities. A new theme will be introduced each week and preschoolers will be engaged in activities that develop letter and number skills, color and shape recognition, as well as a variety of other age-appropriate skills.
Whole group time and centers incorporate arts and crafts, hands-on activities to encourage creative learning, and both fine and gross motor activities. Teachers encourage curiosity and individuality in a positive environment to ensure that a joy of learning is developed. Children must be the appropriate age by September 1, 2021 and must be able to take care of their own bathroom needs. We do not allow pull-ups.
Classes are held at the Chamberlain Recreation Center Preschool Room. Register now to ensure your child's spot.
Preschool teachers are hired for their experience, love of children and patience. Preschool Director, Gina Visser, would be happy to answer any questions you may have about the program. Please phone the park district office at 815-784-5612 or email ginav@genoaparkdistrict.com.
Covid Info
8/16/21  As per the new mask mandate, masks will be required for preschoolers and teacher.
---
Tuesday/Thursday classes:  will start September 7, 2021.
Ages: 3 – 4
Days: Tuesday and Thursday
Time: 9:00 – 11:30 am
Registration fee: $35.00 non-refundable
Monthly fee: $75.00 resident discount, $85.00 non-resident
---
Monday/Wednesday/Friday classes: will start September 8, 2021.
Ages: 4-5 (will be entering kindergarten in 2022)
Days: Mondays, Wednesdays and Fridays
Time: 9:00 – 11:30 am
Registration fee: $35.00 non-refundable
Monthly fee: $100.00 resident discount, $110.00 non-resident
---
Interested in signing up for a class? It's fast and easy here on the website! Click here or on the "Online Registration" button in the sidebar.