SPIN CYCLING
One of the best forms of Efficient Exercise we have found!
Start it for your Heart & Calorie Burn . . . . Stay with it for the ENERGY!
**Many different types of Spin Classes are offered!
LEARN HOW TO SPIN CYCLE WITH THE FREE INSTRUCTIONAL CLASS OFFERED FOR YOU
Beginner Spin Cycling: 30 minutes beginner/intermediate spin cycling
Spin Cycling: 45 minutes beginner/intermediate/advance spin cycling
Spin & Strength: 45 minutes intermediate/adv spin + 15 minutes of upper body toning/Abs
Spin 50/50 Spin & Refine: 30 minutes beg/Int/Adv Spin + 30 minutes of full body toning/Abs
Mix it Up Spin Cycling: Mixing up the format of 30 min Int/Adv Spin + 30 min spin cycling
SPIN CYCLING
Fitness Formula: BEG/INT/ADV Level
As Hard or Easy as you turn your dial!
Efficient Cardio / Toning / ABS
Hi Caloric Burn / NO IMPACT
Sign up EARLY for a bike!
YOU CANNOT BEAT THIS CLASS FOR WHAT IT DOES FOR YOU!!
Having a hard time getting the results you're looking for? Take a Spin Cycling Class, a unique way to use your body in a new way. Increase your ENERGY, lower cholesterol & blood pressure, reduce stress, etc. while you strengthen your heart and lose yourself in this class. Burn up to 1,000 Calories from one Class!!! All the BEST effects of great cardio work! This is one of the most efficient workouts we have found comparative to the awesome benefits of running (but NO impact to the body). YOU are in charge of your Intensity Control!! MAKE THE CLASS AS HARD OR EASY AS YOU LIKE. The Instructor may take you through a visualization journey across country, perhaps up & down hills, and move you through different resistances and intensities to interval train your body to Shed Fat & Fire Up your Energy. Track your miles traveled and pace per workout with your own fitness computer on the bike!
All Fitness Levels Welcome. Modifications available to PERSONALIZE Your Workout!
As Hard or Easy as you turn your dial!
Class size is Limited. Sign up EARLY for a bike!
Childcare at the GFC Kidz Zone Playland is available*. Call for details.
First Trial Class Free!* Call the GFC @ (815) 784 – F I T (3488) to reserve your spot. *For new participants only
Dates and Times:
See Schedule
---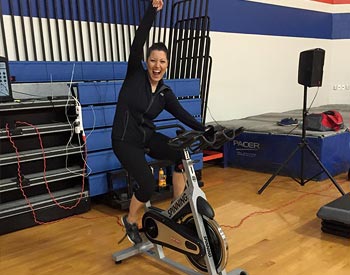 ---