Swim Lessons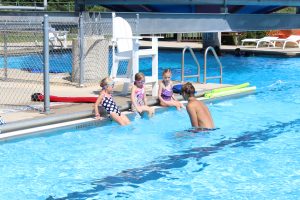 Chamberlain Park Pool provides lessons based on skills and not age. If you child has participated in lessons here in the past, there are records of which level he/she has completed. Please note that each child will have different abilities and will learn at his/ her own pace. The instructors and manager will do their best to accommodate each participant's skill level within the first 2 lessons.
Lessons are instructed in cool and windy weather. They are only canceled due to severe weather or mechanical issues. The pool water is kept at an average of 82 degrees, but may vary due to weather or mechanical issues.
If the park district cancels, you will receive a text 30 minutes before your lesson is scheduled to begin. Morning make ups will be held on Fridays at normal times only if the park district cancels. Evening lessons will be determined based on pool availability and you will be notified by your next scheduled lesson. No makeups will be issued for sickness or vacations. If weather is questionable, and you are unsure if lessons are being held, please call 815/784-5612 no earlier than 30 minutes prior to your scheduled lesson.  (We use an app called Remind to communicate any cancellations.  It's very simple to do.  Text 81010 and enter the message @GTPDL.
Learn to Swim Levels
Level 1 – Introduction to Water Skills
For the beginner who is comfortable in the water.
Swimmers learn basics of swimming: bobbing, going under water, supported front and back floating, supported rolling over from front to back and back to front, supported gliding , supported flutter kick, supported front crawl arms and jumping in.
Level 2 – Fundamental Aquatic Skills
Swimmers should already be able to float on front and back and put head under water.  Swimmers will work on: independent front and back floating , independent rolling over from front to back and back to front, independent front and back glides, front crawl arms and kicks, back crawl arms and kicks, retrieving underwater objects, and jumping into water over their head.
Level 3 – Stroke Development
Swimmers should already be comfortable swimming front stroke and swimming on their back by themselves.  Swimmers will work on: gliding, freestyle with side breathing, backstroke, breast stroke and dolphin kicks, retrieving objects in deeper water, treading water, jumping into deep water.
Level 4 – Stroke Improvement
Swimmers should already be able to: swim front and back crawl 25 yards.  Swimmers will work on: rotary breathing, freestyle, backstroke, elementary backstroke, scissors kick and sidestroke, whip kick and breaststroke, intro to turning at wall, treading water with modified scissors, and diving in kneeling position.
---

Morning Lesson Schedule
Monday-Thursday
Session I: June 19-June 29
Session II: July 10-July 20
Session III: July 24-August 3 10:00 am ONLY
Ages 5 & Up: $65.00/$75.00 per session
10:00-10:40 am
10:50-11:30 am
Preschool Ages 3-4: $55.00/$65.00 per session
10:00-10:30 am
10:45-11:15 am
---
Evening Lesson Schedule
Evening Monday/Wednesdays
Ages 5 & Up: 6:00-6:45 pm
Ages 3-4: 6:00-6:30 pm
Session 1
Monday/Wednesday Evening
June 19 – July 12
Per Session
Ages 5 & Up: $65.00/$75.00
Preschool Ages 3-4: $$55.00/$65.00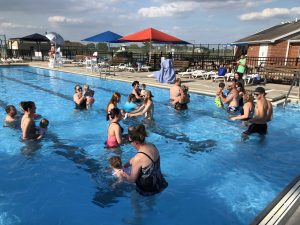 Per Session
Session 2 (6 Classes)
Monday/Wednesday Evening
July 17 – August 2
Ages 5 & Up: $50.00/$60.00
Preschool: $42.00/$52.00
Register Here
Parent/Tot
Ages: 6 months – 36 months
Time: 6:00-6:30 pm
When: Thursdays, June 22 – July 27
Fees: $45.00 Resident /$55.00 Non-Resident each class
Instructed by Melissa Schultz
---
Private Swim Lessons
Individualized instruction is available for those who would like the comfort of one-to-one lessons. Lesson arrangements are made with instructors according to pool schedule and instructor and participant's availability.  You can sign up now for private lessons.  Once the pool is open you will put in contact with a swim instructor to set up a schedule.  Siblings can be placed together, however this could change depending on the skill level of each child.  This could require a separate instructor altogether and you will be required to pay $30.00/$35.00 fee.  If you have any questions, please reach out to Sandi at sandir@genoaparkdistrict.com.
Private lessons are available Monday-Thursday 9:00-10:00 am and Tuesday/Thursday 5:00-6:00 pm.  Other times may be available but that is to be determined by the instructor and pool availability.  No lessons will be taught on Fridays.
Age: 3 and up
Time:  30 mins in length
Location: Chamberlain Park Pool
Fee per Lesson: $30.00 resident , $35.00 non-resident, $20.00 for the second child.  If you require an additional instructor for a child or a very different swim level, you will be asked to pay $30.00 for the additional child.