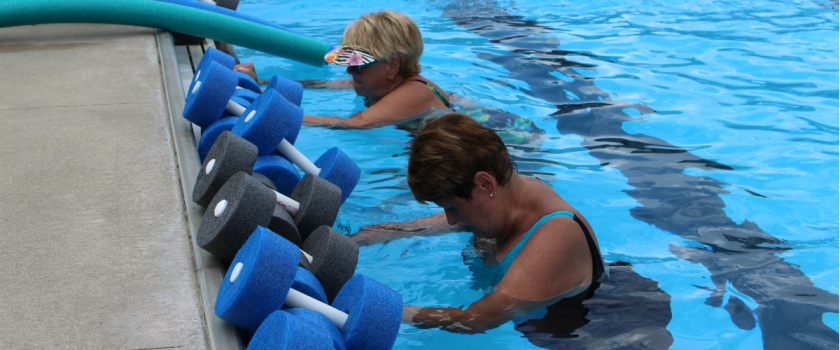 Aqua Fit
Join our Aqua Fitness Class and use your own body weight and other Resistance & Training modes to Tone your Body while you enjoy the water & open air! Enjoy no impact for your joints while you improve Tone, Increase Energy, Improve your Flexibility, and renew your spirit. Excellent for individuals with injuries, fibromyalgia, pregnancy or other specific restrictions as well.
Please contact our fitness center for registration and class fees.  815/784-3488
Tuesdays: 5:30-6:30 pm
Wednesdays: 10:30-11:30 am
Fridays: 10:30-11:30 am
Water Walkers
Looking for some quiet time at the pool?  Enjoy an empty, quiet pool for just walking laps.  We have stairs for an easy enter and exit and an ADA chairlift.  We will happily provide noodles and kick boards for the extra work out. No registration required.  If you'd like to stay for open swim, the daily admission fee will be required.
Fridays ONLY: 10:45 am – 11:45 am.
Fees: $4.00 Resident/$5.00 Non-resident
Lap Swim
Tuesday and Thursday Evenings: 5:30-6:30 pm
Friday Mornings: 10:45-11:45 am
Fees: $4.00 Resident/$5.00 Non-resident