Park District Financial Assistance Program
Financial assistance is available to individuals or families who cannot afford the full cost of a program or service. Amount of assistance provided is based on income and number of family members. For additional information and to set up an appointment contact Paul Bafia at 815-784-5612 ext. 303.
Financial Assistance Application
4-C Child Care
4-C is a private not-for-profit social service agency that for more than 40 years has helped families and child care providers by offering resources and services that include Child Care Financial Assistance, Resource & Referral for Child Care, Parent and Provider Education, the Child Care Food Program as well as Nursing, Social Work, Mental Health, Quality and Infant/Toddler Specialists. The agency also advocates on behalf of children, families and Early Care and Education Providers.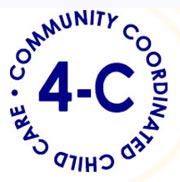 DeKalb Office:
155 N. Third St., Suite 300
DeKalb, IL 60115
Phone: 815-758-8149 ext. 221 or 800-848-8727 toll free
Fax: 815-758-5652
Hours:
Monday, Wednesday, Thursday and Friday: 8:30 AM – 4:30 PM
Tuesday: 8:30 AM – 6:30 PM