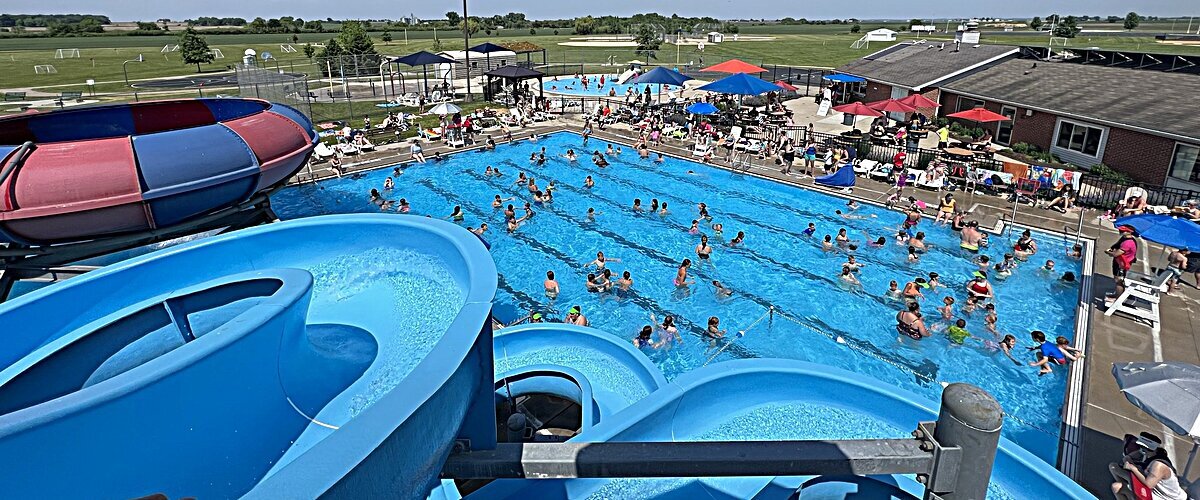 Chamberlain Park Pool
Tentative Opening Day May 25, 2024.
Last Day is August 11, 2024 at 6:00 pm.
Chamberlain Park Pool is located at 400 East Second Street near Chamberlain Park. There are two separate pools within the facility and both pools are heated to an average of 82 degrees but can vary due to weather conditions.
The wading pool has a zero depth entry to 2 feet and has a slide for the young tots. Depth in the main pool ranges from 3 ½ to 9 feet with the "Bowl Slide" that provides excitement for older kids and adults. In addition there is an 18 foot high with 120 linear feet flume slide that drops into 3 ½ feet of water.  The Splash pad has many water features and activities for kids of all ages.
Pool Closing Info
Our staff makes every effort to maintain our regular pool hours. The pool will open when the air temperature is 69º or above at 11:30 am.  To remain open there must be at least 10 patrons utilizing the facility.  Due to cooler weather, severe weather conditions, or lack of patrons, the pool or pool areas may close temporarily or for the day based on management judgment. Chamberlain Park pool will be open whenever weather conditions permit. While public safety is our primary responsibility during extreme weather conditions, fiscal responsibility for the taxpayers of the Genoa Township Park District is our concern during marginal weather conditions.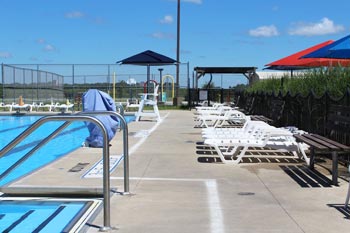 The Genoa Park District reserves the right to close the pool at any time during extreme and marginal weather conditions.  If the pool is closed for 60+ minutes due to inclement weather, guests will be given a rain check to return another day. If weather is questionable and we cannot open at noon, we will attempt to open at 2 pm if there is no threat of severe weather. When in doubt, please call ahead to ensure the pool is open.  815/784-5612.
The pool will close if:
There are less than ten(10) swimmers
The temperature is below 69 degrees
Lightning, thunder or severe weather is in the area
Important Pool Rules & Info to Know
---
Personal Flotation Devices: ONLY Type III US Coast Guard approved flotation devices are permitted in any swimming area. Children using permitted flotation devices must be constantly supervised and within an arms' reach of a parent or guardian 16 years or older. No flotation suits, tubes, or water wings will be allowed.
Water Slide Height/Riding Requirement:
Bowl Slide – Riders must be at least 48″ tall. Rider must sit feet first lying down on your back with legs crossed at ankles and arms behind your head. Standing, stopping, or sliding down headfirst is not allowed. Riders may be required to pass a swim test before using.  No goggles glasses or PFD(life jackets are allowed down any slide)
Small blue slide – All riders must be at least 42″ tall. If catching your rider from the slide, you must wait outside the rope and wait for rider to exit the slide. User must sit feet first lying down on your back or in a sitting position. Standing, stopping or sliding down headfirst is not allowed. Hands and arms must be kept inside the flume at all times.
Due to Illinois Department of Health regulations, admission to the pool shall be refused to all persons having any contagious disease; any infectious conditions such as colds, fever, ringworm, foot infections, skin lesions, carbuncles, boils, diarrhea, vomiting, inflamed eyes, ears discharges; or any other condition that has the appearance of being infectious.
Persons with excessive sunburn, abrasions that have not healed, corn plasters, bunion pads, adhesive tape, rubber bandages of any kind also shall be refused admittance.
A person under the influence of alcohol or exhibiting erratic behavior shall not be permitted in the pool area. Alcohol is not permitted into the pool area or any part of Genoa Park District.
All persons are encouraged to take a shower before entering the pool area.
All patrons must wear clean swimming apparel in the pool.
Only clean footwear, baby strollers or wheelchairs are allowed in the pool area.
The pool water is not suitable for drinking. Avoid swallowing pool water.
Children 9 and under must be accompanied by an adult 16 and older.
Only children 7 years and younger are permitted to swim in the wading pool with a parent or guardian.
Safety breaks will be announced every hour on the top of the hour for 15 minutes. Adults, 18 and older, and infants/toddlers will be allowed in the water during safety breaks.
Lifeguards are responsible for enforcing safety rules and responding to emergencies. Parents or guardians are responsible for supervising their children.
Children who are not toilet-trained shall wear tight fitting rubber pants, or swimming diapers. Swim diapers are available at the front desk for $1.25.
Food and drink must be consumed in the concessions area only. Coolers may be brought into the pool however all food must be eaten in the concessions area. Only water is allowed on the pool deck. Tables are also available outside for picnics. Glass containers are prohibited.
Glass, soap or other material that might create hazardous condition or interfere with efficient operation of the swimming pool shall not be permitted in the swimming pool or on the pool deck.
Spitting, spouting of water, blowing the nose or otherwise introducing contaminants into the pool is not permitted.
Jewelry, goggles, and flotation devices are not permitted on the slides.
No diving is allowed in the wading pool or main pool.
Patrons must enter the water feet first.
Swimming is prohibited when lightning is present or eminent, including a 30-minute period after the last lightning is observed. All patrons must quickly evacuate the deck in a safe manner.
Personal conduct within the pool facility must be such that the safety of self and others is not jeopardized. No boisterous or rough play is permitted. Patrons may not hang or sit on other patrons shoulders. Inappropriate conduct such as swearing, fighting, stealing, and vandalizing will not be tolerated and may result in ejection from the facility, loss of season pass privileges, and criminal prosecution.
Smoking within the facility or fenced-in perimeter is not permitted. No person shall smoke in a public place within 15 feet of any entrance to a public place or place of employment.
Cell phone use is prohibited in the locker rooms.
Individuals may lose their swimming privileges due to pool rule infractions.
No refunds will be given for paid admission.
Additional rules are posted at Chamberlain Park Pool.
Chamberlain Park Pool is not responsible for lost or stolen items.
Please note that anyone entering the pool facility must pay the daily fee or have a summer pool pass. Children 2 & under are free with a paying adult.
All patrons must show proof of residency when paying daily admission fee or be charged the non-resident fee.
Pool management has the authority to implement and enforce rules that are more stringent or that supplement those listed here.