You can be Successful too!
Lori Stegle 
The Genoa Fitness Center has made more accountable by joining the Meltdown and classes.  The friendly staff and genuine compliments on my appearance have boosted my confidence.  I'm working so this works easier.  My personal trainer Amber is not only a friend, but a professional!  She mixes in humor and pushes me towards my goals!
---

Lisa Bennet
Hi, my name is Lisa Bennett and I am the Fitness Center Fall 2017 Meltdown winner.  All I can say is trust the process.   I have tried many other programs but this is the whole package.  It's not just about the food, it's not just about the exercise, it's about taking the tools provided and following the process.  I feel better and am stronger than I have been in years thanks to the Meltdown.  On top of all the years' experience brought into the program, it is the day to day support by all the staff that makes the difference.  I would recommend this program to anyone who is ready to make a lifestyle change and improve their overall wellbeing.
---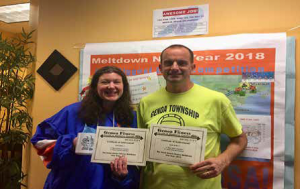 Kevin and Vicki Rahn
Kevin likes to say that he hadn't worked out since the 1900's, and I had never worked out at all. The staff at the fitness center was so kind and supportive to help us as we were getting started in the process. I love that they quickly learned our names and would personally greet us and encourage us! The accountability of tracking our progress through the meltdown was motivating to keep working hard. We really enjoyed the class we took on Wednesday nights and the camaraderie of other meltdown participants. It's so helpful to not have to do it alone! We experienced great success during the meltdown by changing our diet/nutrition and adding in the weights/exercise and have kept the momentum going.